WELCOME TO MOTIVE MOTIVE FITNESS®
Motive FITNESS® was founded in 2012, specializing in unique products in the Stretching, Storage and Functional fitness categories.
Our founders have decades of international experience in the fitness industry, having served in executive positions in the US, Europe and Asia.
Our first product, the heavy-duty commercial TotalStretch® TS200, launched in 2014, followed by the full-featured commercial TotalStretch® TS150 in 2017.
2018 saw the introduction of two new products - the base model commercial quality stretching unit, TotalStretch® TS100 and the innovative HUB™ TotalStorage System for commercial facilities.
STRETCHING VIDEO LIBRARY
CLICK TO VIEW EACH MUSCLE GROUP VIDEO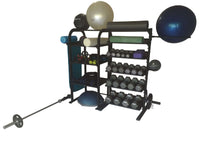 The HUB™ Series TotalStorage System
SAVE SPACE. SAVE MONEY. GET MORE.
The HUB™ TotalStorage System is a SPACE-EFFICIENT, CUSTOMIZABLE and COMPREHENSIVE storage system consisting of two base storage units - HUB200 and HUB250 - which can be CONFIGURED as stand-alone units or into a multi-unit side-by-side wall system, requiring NO ANCHORING to the floor or wall. BUILD IT to your storage needs by adding a combination of our UNIVERSAL ACCESSORY ATTACHMENTS. Eliminate clutter and free up more floor space to improve the exercise experience.
LEARN MORE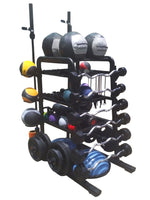 The HUB™ 300 PRO TotalStorage System
REVOLUTIONIZING FREE WEIGHT AND FUNCTIONAL STORAGE
As the market shifts in focus to strength and functional training, facilities face challenges in freeing up space for functional areas  and accessory storage.  Renting more space is not a viable option.  The existing space must be more efficiently utilized and the clutter of functional accessories eliminated.  The HUB™ 300 PRO TotalStorage System reduces cost and improves member experience.  Eliminate up to 10 product-specific storage racks and get 200sf of storage in only 25sf of space!
300
LEARN MORE